Welcome to Ebb & Flow Apartments in Paje
Ebb & Flow
Keep your spirit salty.
We created Ebb & Flow along with our passion for the ocean to provide a perfect holiday home for all water enthusiasts. The apartments are perfectly situated close to our watersports centres. Active lovers can enjoy the Indian Ocean and pristine beach of Paje to the fullest.
Our 8 en-suite apartments are located in the heart of Paje, just a stone's throw away from probably the most beautiful beach along the southeast coast.
Our cozy courtyard-vibe property has a pool, sunbathing and chill out areas.
Each room has an upstairs bedroom with ensuite bathroom and balcony, as well as a downstairs lounge with kitchenette.
A satisfying full breakfast with sea view is served at the Ocean Restaurant.
The Aquaholics Kite & Surf Centre as well as the Buccaneer Dive Centre are both located on the site to ensure you'll get your saltwater level up.
Interesting Fact: Ebb & Flow describes the movement of the tides. During your stay with us you will discover how the tides effect the beaches and make Paje a unique place to stay with breathtaking and ever changing ocean views.
Our Rooms
Stay with us in a laid back atmosphere.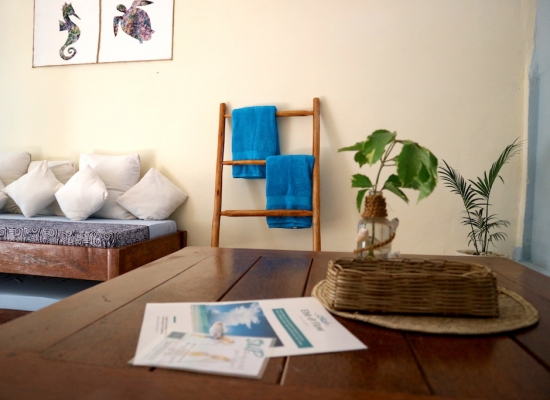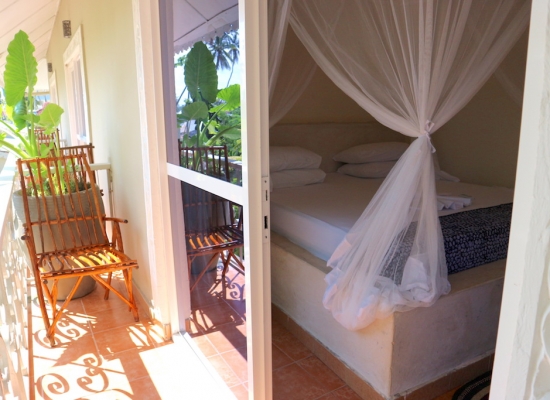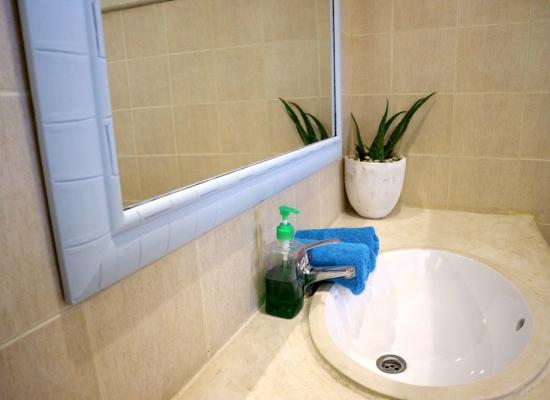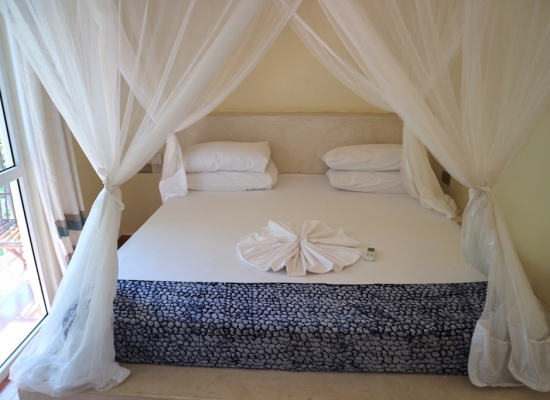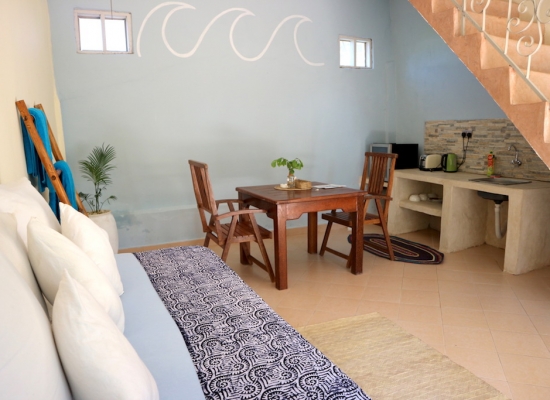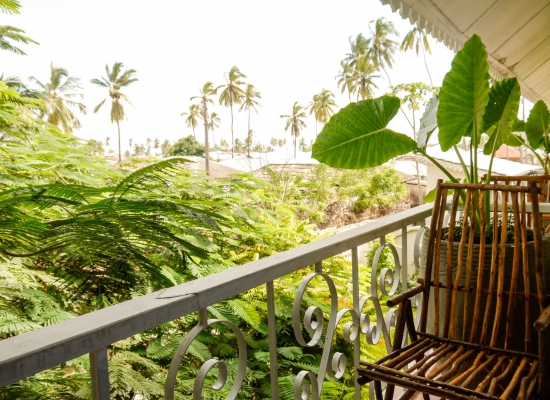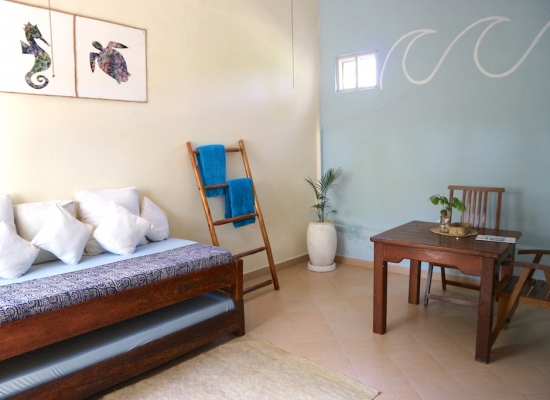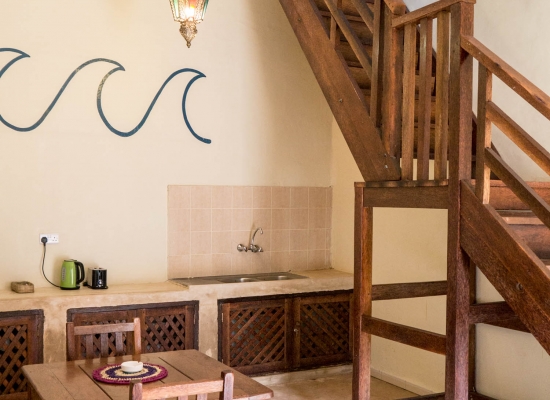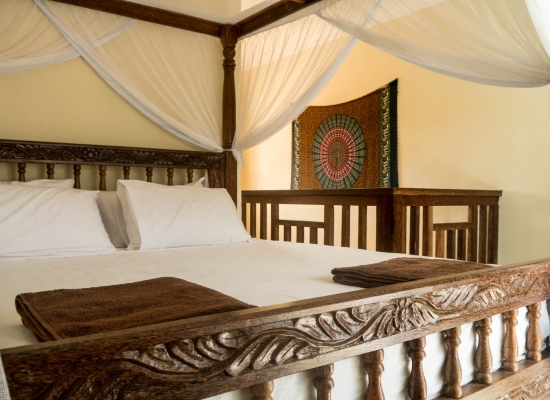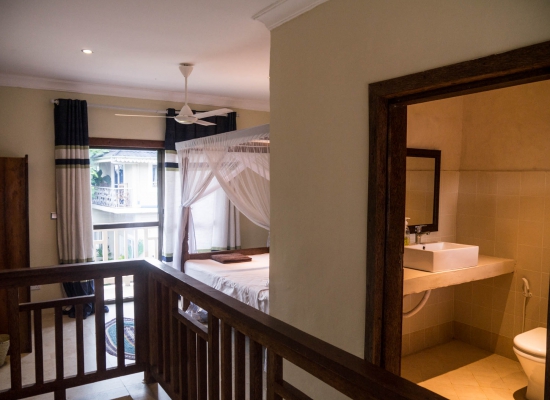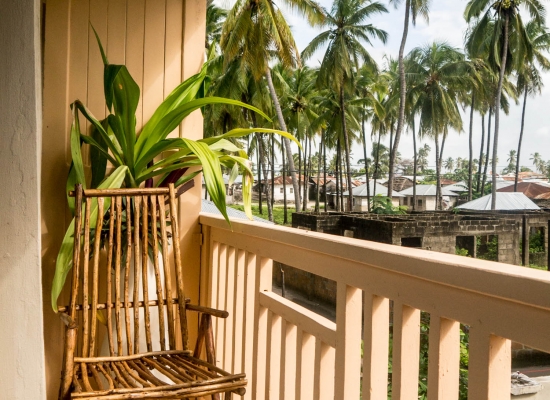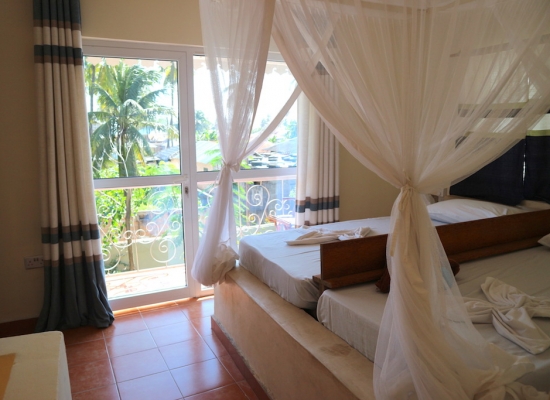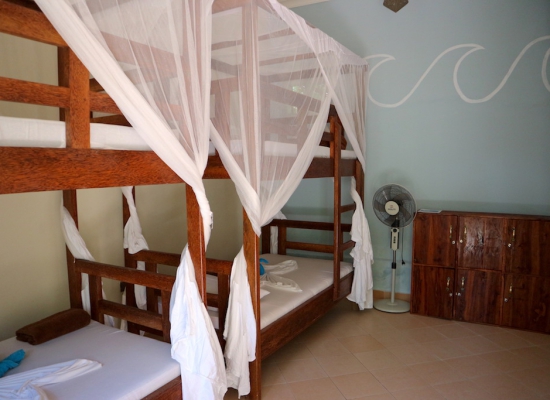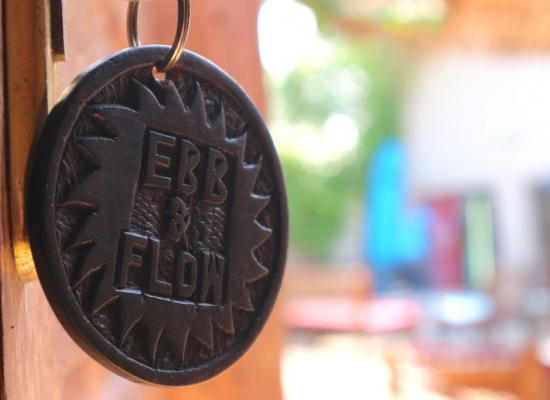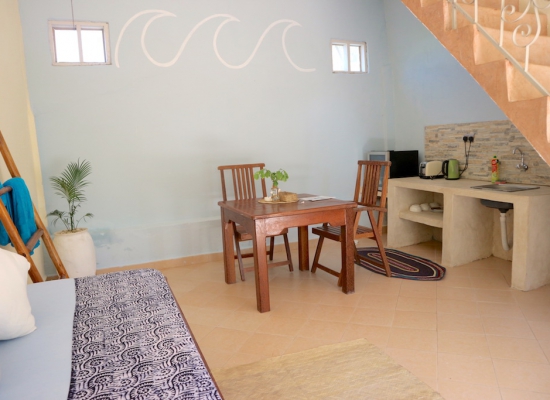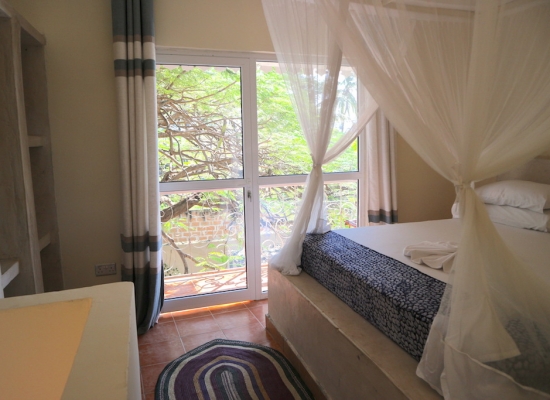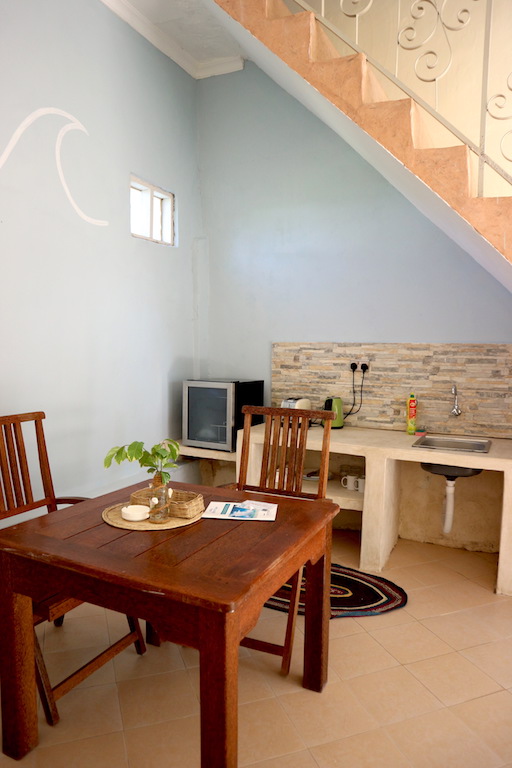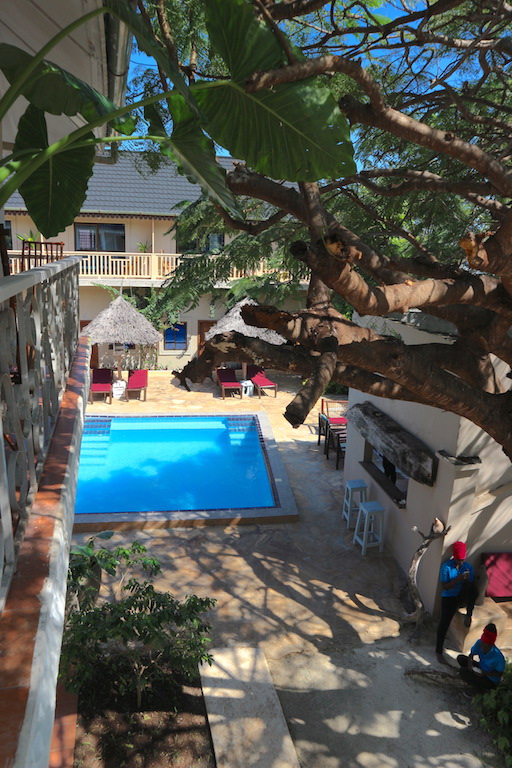 Comfy Double Bed
All our upstairs bedrooms are equipped with a comfortable King Size Double Bed and Mosquito Nets, as well as cuboards and private balconies
Ceiling Fan
You will find a ceiling fan in the bedroom as well as in the downstairs lounge.
Kitchenette
All apartments have a small kitchenette equipped with a fridge, kettle, toaster, plates and cuttlery
En-Suite Bathrooms
All apartments have a private bathroom with spacious hot water showers.
Daily Housekeeping
Our housekeeping will make sure that your room is clean and inviting every day. Bed sheets and towels are provided in each apartment.
Restaurant & Bar
Paje has a great choice when it comes to food and drinks. Breakfast is served at the Ocean's Restaurant on site, just 150m from your apartment – they also serve delicious lunch and dinner and you will find a great laid back vibe here in the evenings. Right next door to us is a backpackers with a viby bar. You can find many other places to eat or bars in walking distance.
Watersports
There is plenty to do in and around the Ocean. You will find watersports facilities, such as our Aquaholics Surf & Kite Centre and the Buccaneer Dive Center just next door.
Pool
Our private pool is great for a refreshing dip on a hot day. Beach beds and chill areas with shade around the pool are the perfect place to rest after an active day or simply to switch off the mind.
Beach Facilities
All guests can take advantage of all beach facilities at Ocean's Restaurant, which are only a short walk away from the apartments.
Garden
Have a snooze in a hammock or read a book under the tree in our cozy small garden.
Our Rates
All our Rates are per room per night.
High Season: 15th of June – 31st of October & 15th of December – 28/29th of February
Low Season: 1st of March – 14th of June & 1st of November – 14th of December
Ebb & Flow will be closed between 15th of April and 31st of May due to the heavy rains in Zanzibar.
Pictures of our rooms and surrounding
Wave Surfing
Enjoy uncrowded waves in tropical waters with us. Our surf school Aquaholics Zanzibar provides fun trips to the waves under professional guidance.
Diving
Buccaneer Diving offers first class dive trips to the nicest spots along the coast. Experienced friendly guides and excellent gear add to the quality of the dives and guarantee a great experience.
Kitesurfing
Kitesurfing is one of the most popular watersport activites around the world and easy to learn. Paje offers amazing conditions for all levels and you should give it a go during your stay at Ebb & Flow if the winds are good.
Stand Up Paddling
Stand Up Paddling is easy to learn and tons of fun. Our friends in Michamvi offer unique guided SUP trips through the Mangrove Forests. If you are lucky and catch it on the right day, you might even be able to spot an amazing sunset in Chwaka Bay.
Cultural Tours
Zanzibar has a rich culture and it is fun to learn more about the local life in Paje during a village tour. Another great way to get to know the Zanzibaris is by joining a cooking class.
Questions?
Please feel free to contact us at any time should you have any more questions.
We are looking forward to hearing from you.
info@ebbandflowzanzibar.com
+255 779721630
Book your stay with us this season. Good vibes, salty air and lots of fun are waiting for you in our tropical paradise.
Book Today
Our Location
Our place is located behind the Arabian Nights Hotel in Paje. You can access our property from the parking area of Arabian Nights Hotel or our seperate entrance way on the other side.